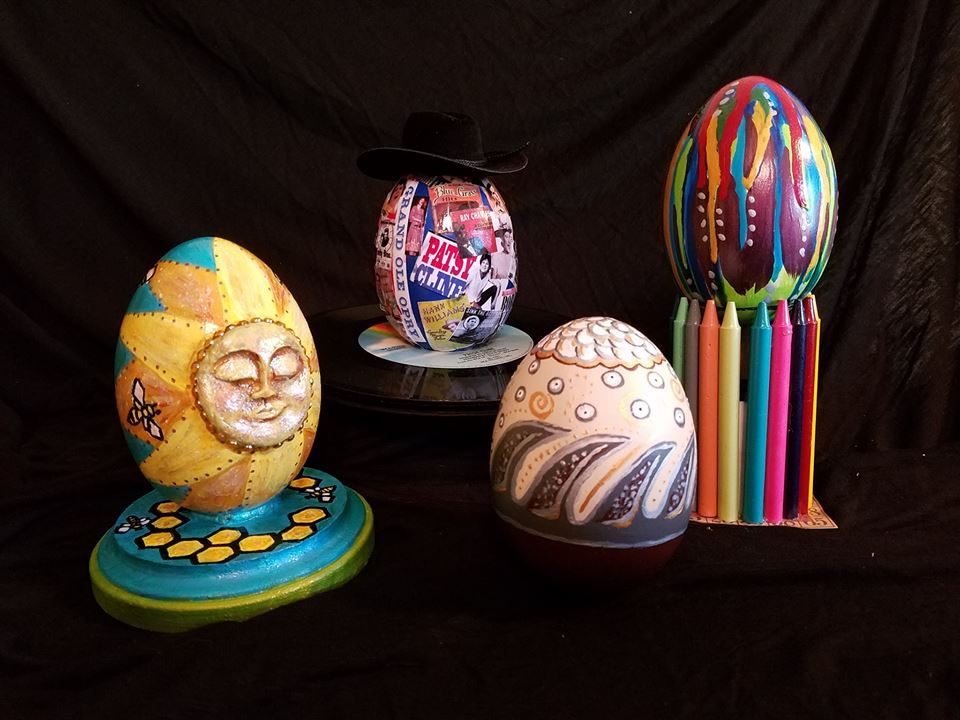 Come experience a Silent Auction like no other at Artists Enclave's EGGS-ibition 2, Friday, April 7th,
6:00 p.m. to 8:00 p.m. in the Walnut Street Annex of Agua Dulce Mexican Kitchen, 115 East Elm Street,
Denton, Texas 76201. EGGS-ibition 2 showcases one-of-a-kind ceramic eggs that have been handcrafted by over thirty-five local artists, businesses and community leaders. Look forward to acoustic music provided by the Denton Songwriter's Guild, host of the recent Denton Folk Festival. All auction proceeds will benefit Denton High Cares. Local businesses are providing door prizes for raffle drawings. Anadara Designs sponsors the event, which is free for all ages and which features food and beverages available from the Agua Dulce menu.
The mission of the Denton High School Family Assistance Foundation is to provide financial and other assistance to members of the Denton High School family (defined as alumni as well as current and former faculty and staff) in times of severe medical or other crises. Formed in August 2014, the Foundation's board of directors includes the current Denton High School principal and DHS alumni. Since its formation, the Foundation has awarded over $80,000 in grants to deserving members of the Denton High School family. To apply for a grant, go to http://dentonhighcares.com/what-we-do/grant-application.html.
Local artist, Isabel Cano shares, "I am participating in Eggs-ibition 2 for several reasons. First, because I can't say no to Artists Enclave which is always rallying for a good cause in the Denton community. Second, I love to contribute to fundraisers. Third because it was a creative challenge."
"We are so pleased and honored by to have Artists Enclave's support and generosity in connection with the second year of this wonderful event," said Rudy Rodriguez, Jr., President of Denton High Cares. "Last year's event was fantastic, and we can't wait to do it again on April 7th. We so appreciate Artists Enclave for helping us provide much needed assistance to deserving members of the Denton High School Family."
Make your plans to join us at Agua Dulce on April 7!