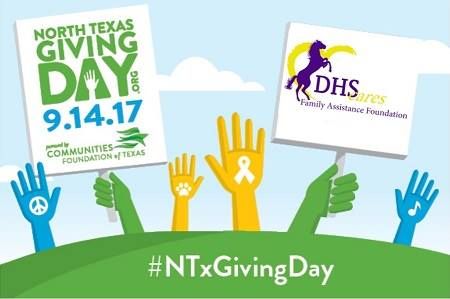 North Texas Giving Day is Thursday, September 14th, and we are inviting you to help us help provide support to the Denton High School Family by donating to Denton High Cares on that day. Our mission is to provide financial assistance or other assistance to members of the DHS family (current and former students, faculty, staff, and their families) in times of medical or other crises. On North Texas Giving Day, it's easier than ever to donate in support of our mission: just visit our donation page at https://northtexasgivingday.org/npo/denton-high-school-family-assistance-foundation.
What's even better about North Texas Giving Day is that every donation of $25 or more qualifies Denton High Cares for a bonus from the Communities Foundation of Texas, so if you donate $25, we may receive a couple of bucks on top of that! And what's more, the more people who donate, the more chances we have to receive a cash prize from the Foundation, which would be even more wonderful.
The Board of Directors of Denton High Cares thanks you so much for your support. We would truly appreciate any donation you can make on Thursday, September 14.